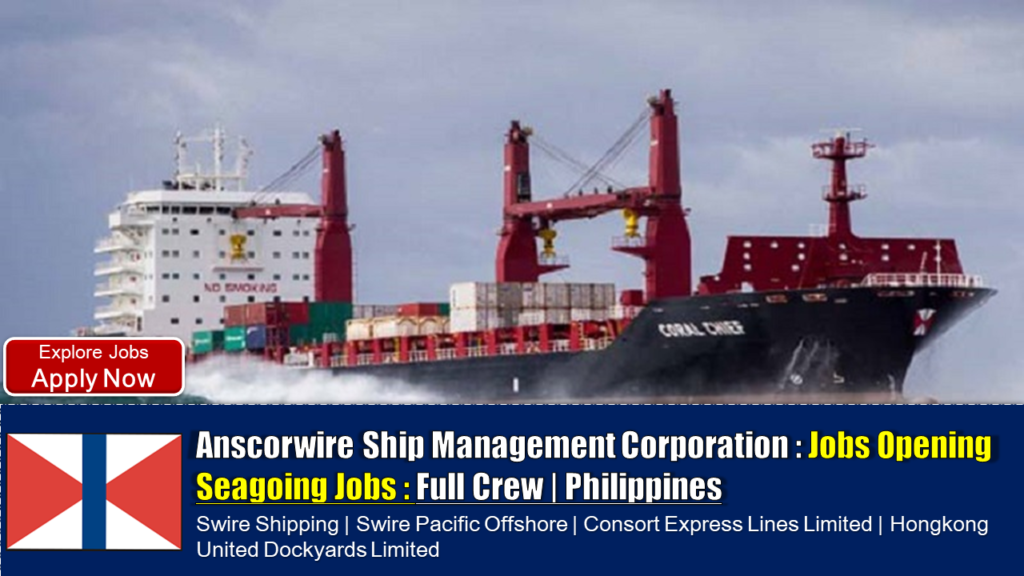 The Anscor Swire Ship Management Corporation (ASSM) is one of the leading crewing agencies in the Philippines and was officially registered with the Securities and Exchange Commission (SEC) on 13 July 1993.  
The Anscor Swire Ship Management Corp is hiring update vacancies for shipping jobs industrial.
For interest applicant, Have an opportunity to selected a vacancy and get joining the careers opening. Please preparing the required posted and send including your fully documents.
| | |
| --- | --- |
| Company | Anscorwire Ship Management Corporation |
| Adress | GXQJ+WHJ, G/F Tower B Two E-Com Center, Bayshore Avenue MOA Complex, Pasay City, 1300 Metro Manila, Filipina |
| Job Opening | Shipping Jobs Vacancy |
| Deployment | Ongoing Opening | Please Also Checking for Current Opening Vacancies. |
| Location | Philippines |
| Nationality | Any Nationality. |
| Salary | Not Dislosed. |
| Bonus | Company sponsored training locally & abroad | Free air fares if residing in province | Promotions Opportunities up to MST & C/E | Medical & Life insurance regardless if on board or ashore. | Preferential employment of qualified relatives. |
| Total Jobs | |
| Summary | Interest applicant may send their resumes via email or directly apply by look for manager recruitment. |
📁 Requirements [Condition of Employments]
Preferably ready US Visa.
For Swire Pacific Offshore with unlimited DPO license and Preferably with Offshore experience
📁 Job Opening : Anscorwire Ship Management Corporation
| | |
| --- | --- |
| Now Hiring | Department |
| Masters  | Swire Shipping |
| Chief Cooks  | Swire Shipping |
| Second Officers  | Swire Pacific Offshore  |
| Third Officers  | Swire Pacific Offshore  |
| Third Engineers  | Swire Pacific Offshore  |
| Fourth Engineers  | Swire Pacific Offshore  |
| View Vacancy>> | Consort Express Lines Limited |
| View Vacancy>> | Hongkong United Dockyards Limited  |
Find Vacancies Update – If you did'nt found your vacancy are Exist. Please Checking for latest update vacancy througt agency jobs portal.
View Opening
📩 Submit Application [Enter your resumes here]
Interest applicant could send their resumes to email or join directly apply by found the agency recruitment department in the office adress.
✉️ – visit our  Recruitment Department.
☎ Getting In Touch [Connecting with the Company now]
Get Respon and Start Discussion, Please use these featured :
📥 How to Apply – Follow these steps to setup your careers.
To apply for this position, you must provide a complete Application Package. See required documents below.
Preparing your documents [CV/Resumes]
Be sure the requirement of employment are completed.
Adress of all full documents to agency application : e-mail/phone/directly apply.
While agency using application form, You just completing the detail and submit. Candidate are suits will get respon on their application.
🔍How you Will be Evaluated?
All information included in the resume and Occupational Questionnaire is subject to review and verification.
HR will review your resume and supporting documentation to ensure you meet the minimum qualification requirements.
Applicants meeting the minimum requirements will be further evaluated based upon information you provided in the Occupational Questionnaire.
If didn't find a suitable vacancies from the above list or current vacancy list, Candidate can submit their resumes to agency application.
Click and Submit or fill-up detail and submit :
Apply For Job