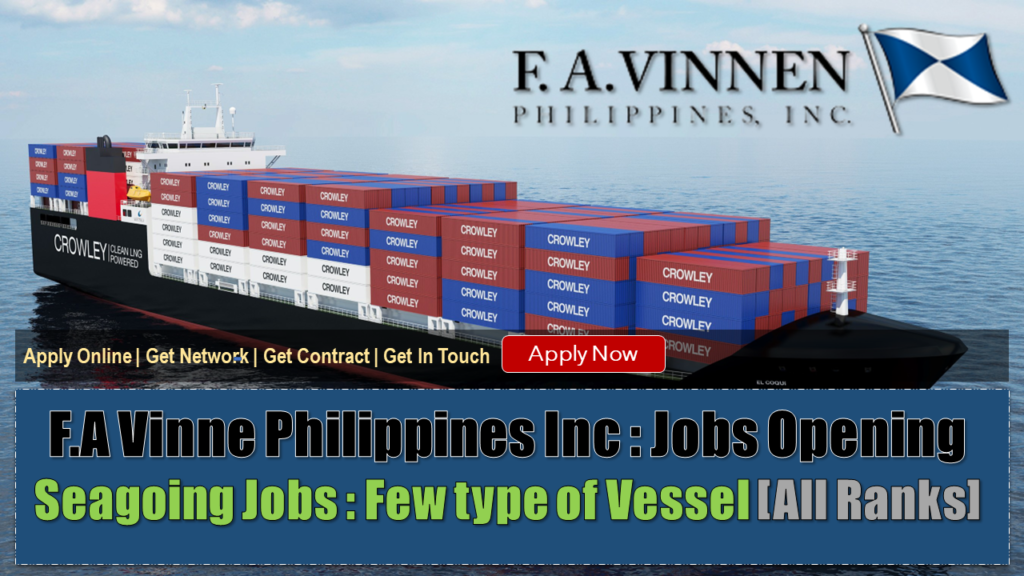 F. A. Vinnen Philippines, Inc. commits to provide seamless services for our seafarers and their families with a sharp look on the principal's need in respect to quality and commercial efficiency.
F.A Vinnen Philippines In Is Hiring Seagoing Jobs for Few type of Vessel, Please checking for jobs opening and get contract by submit your application.
| | |
| --- | --- |
| Company | F.A Vinnen Philippines Inc |
| Adress | Alscophil Building, Edison, Makati, Metro Manila, Filipina |
| Job Opening | Seagoing Jobs for Few of Vessel Type. |
| Deployment | Ongoing Opening |
| Location | Philippines. |
| Nationality | Philippines. |
| Salary | Not Dislosed. |
| Bonus | Not Dislosed. |
| Total Jobs | – |
| Summary | Agency Jobs Portal are in pinoyseaman.com |
📁 Requirements [Condition of Employments]
Selected a Jobs to redirecting find the qualification detail and proceed for apply Jobs thorught agency jobs portal.
📁 Job Opening : F.A Vinnen Philippines Inc
Find Vacancies Update – If you did'nt found your vacancy are Exist. Please Checking for latest update vacancy througt agency jobs portal.
View Opening
📩 Submit Application [Enter your resumes here]
☎ Getting In Touch [Connecting with the Company now]
If you neeed to start discussion or get respon from agency/recruitment. Please using these contact and get started your message there.
✆ Enquire Now – Start Now. – Primarry Contact Page
✆ Enquire Now – 8843-8919 / 8843-6754 – Primary Mobile Phone
📥 How to Apply – Follow these steps to setup your careers.
To apply for this position, you must provide a complete Application Package. See required documents below.
Preparing your documents [CV/Resumes]
Be sure the requirement of employment are completed.
Adress of all full documents to agency application : e-mail/phone/directly apply.
While agency using application form, You just completing the detail and submit. Candidate are suits will get respon on their application.
🔍How you Will be Evaluated?
All information included in the resume and Occupational Questionnaire is subject to review and verification.
HR will review your resume and supporting documentation to ensure you meet the minimum qualification requirements.
Applicants meeting the minimum requirements will be further evaluated based upon information you provided in the Occupational Questionnaire.
If didn't find a suitable vacancies from the above list or current vacancy list, Candidate can submit their resumes to agency application.
Click and Submit or fill-up detail and submit :
Apply For Job